Corporate Social Responsibility
Creating a brighter tomorrow
Dynamic Business Outsourcing Solutions aims to be of service not only to its employees but to communities outside of it. Corporate Social Responsibility (CSR) is an affirmative act of engaging the company, its stakeholders, and its staff to participate in giving back to the community. We aim to improve the quality of life of our beneficiaries. Here at DBOS, we see to it that we contribute to the communities both inside and outside the company. Our staff is given enough time off work and additional perks, enabling them to balance corporate and family life. We also believe in supporting the Philippines as a whole, by creating job opportunities for Filipinos and upskilling them so they can reach their full potential.
Manila Bay Coastal Clean-up
25 January 2020
To continuously pursue the "attitude of gratitude", the DBOS eco-warriors, led by CEO Jacqui Miller, collaborated with WWF-Philippines on the company's first Manila Bay Coastal Clean-Up last January 25, 2020, Saturday at the LPPCHEA. Equipped with gloves, trash pickers, masks, and sacks, the eco-warriors picked plastics, styrofoam, rubber, and glass on the southern coast of Manila Bay. After a couple of hours of digging and picking along the coast, all the volunteers have cleaned a total of 551 kilos of trash.
Let's Bring Water to Beton in partnership with WWF-Philippines
6-8 September 2019
Seeking to reach a bigger number of beneficiaries, DBOS partnered with WWF-Philippines for the "Let's Bring Water to Beton" fundraising project. With every donor's support and cooperation, the company has raised a total of PHP100,000 for 2 rainwater collecting tanks that will help store cleaner water for the residents. On Sept. 6-8, 2019, two DBOS representatives went to visit the island of Beton in Palawan, mingle with the locals and take part in building the rainwater tanks.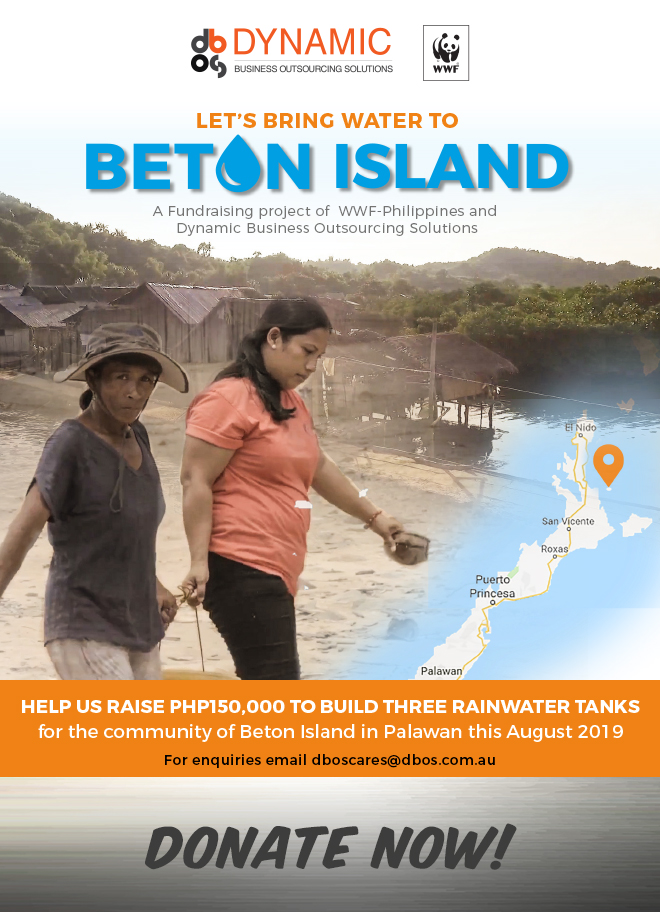 With 1,664 individuals in 322 households, Barangay Beton is a fishing community that used to have little to no access to electricity and water. As an island, Beton lacks ample reserves of groundwater. Many residents must fetch water from deep well or wells, as far as a 30- minute boat ride from their homes. WWF's rainwater collecting tank allows residents to capture, store, filter and distribute rainwater – providing free, safe and clean water for households.
Now the people in Beton Island need water tanks— the three rainwater collecting tanks will be placed in the elementary school and health centre areas, to increase water accessibility. Not only would this provide the children with a steady supply of potable water, but it would also aid in the facilities' and people's hygiene regimen.
To do this, we need P150,000 for the construction of the three rainwater collecting tanks, including the labour and materials of our team in Palawan. All three tanks would take 8 days to be built. The tanks must be done during the summertime. This is in preparation for the rainy season, where the water tanks can be most utilised for the benefit of the community.
Brgy. Bagumbayan Outreach and Medical Mission
1 September 2018
We aim to take these efforts outside the company as well and directly give aid to communities. On September 1 of 2018, the DBOS Team went to Brgy. Bagumbuhay in Quezon City and hosted an outreach program to help single mothers and senior citizens in the community. Our staff assisted in conducting a free medical checkup and a fun-filled Zumba activity. Afterwards, we gave away snacks and gift bags to help provide food for our beloved participants.
Outreach Program with Gentle Hands, Inc.
17 August 2017
Last August 2017, we have adopted Gentle Hands, Inc. as a primary beneficiary. The DBOS team visited the orphanage and hosted an outreach program to entertain the organisation's residents. Our staff facilitated activities and gave away school supplies to the children. Everyone donated money from his or her own pockets as well, the sum of which was matched by the company's additional donations. DBOS continues to conduct outreach programs, gearing focus towards hosting communities and in helping the Filipino society.